Welcome

Welcome to Omagh Integrated Primary School and Nursery, OIPS Friends Pre-School & After School. We've just moved in to our brand new, 'state of the art', school in June 2018 (located beside our sister school, Drumragh Integrated College) to complete the OMAGH INTEGRATED CAMPUS vision, and invite you to come and see the fantastic facilities we have to offer.
You can use our website to stay up-to-date with the latest events in school, view our school policies, read our monthly newsletter, check out the work of groups such as the Eco-Council, Pupil Council, and Parents' Council or just have a look at life in Omagh Integrated Primary School & Nursery.
If you have any questions or queries about our school then please do not hesitate to contact us on 028 82242008 and we'll be delighted to help you.
Omagh Integrated Campus..."the dawn of a new era in Integrated Education".
The opening of the brand new Omagh Integrated P.S. & Nursery beside Drumragh Integrated College completes the final piece of the 'OMAGH INTEGRATED CAMPUS' jigsaw. Incredible opportunities for cooperation and the development of integrated education from pre-school to post 16 are now a reality on the single, self-contained site. Pupils, parents, staff, governors and the local community can look forward with confidence and high expectations to an exciting future within, and well beyond, OIC. Please contact Mr Bradley at OIPS or Mr Frith at DIC, should you require any further information.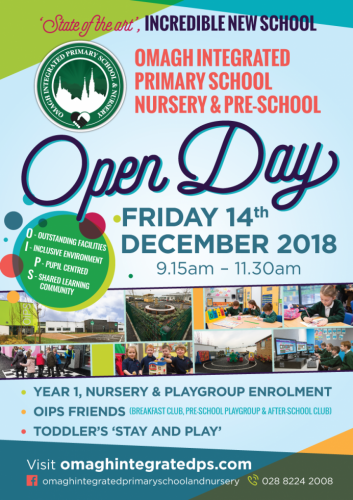 Upcoming Events...
Thursday, 13th December 2018
Y7 pupils performing in Drumragh College's 'Twelve Days of Christmas' (7:00pm Tickets priced at £5 Adult and £3 pupil/student)
Friday, 14th December 2018
OPEN DAY
Friday, 21st December 2018
School finishes today for Christmas Holiday. (Midday arrangements for pick-up)
Monday, 24th December 2018
SCHOOL CLOSED
Tuesday, 25th December 2018
SCHOOL CLOSED
Wednesday, 26th December 2018
SCHOOL CLOSED
Our fantastic new school building is NOW OPEN...CONGRATULATIONS TO ALL INVOLVED!
After a frenetic few weeks of preparation and moving from our old school, 'The dream has finally become a reality' with the opening of our brand new school to all during the last week of June 2018.
We're confident that our new school building and 'state of the art' resources will only enhance further the learning experiences our pupils already receive and we all look forward with great excitement to the beginning of a new chapter in the continuing story that is ...
Omagh Integrated Primary School & Nursery.
Omagh Integrated P.S. & Nursery,
72 Crevenagh Road,
Omagh BT79 OEW
info@integratedprimary.omagh.ni.sch.uk
T: 028 8224 2008